An audiophile is a person who is enthusiastic about the high fidelity reproduction of music.     Their values range from all stages of music reproduction, the initial recording, production, and playback.   The key goal is to experience that live performance in a room with good acoustics at home.     Most any musician that is serious about his/her craft owns audiophile-calibre  speakers.    They want to hear, criticize, and enjoy their work, along with others' work.
Audiophiles can spend ten's of thousand's of dollars (and often more), trying to reach their ultimate goal, which is musical perfection.    We offer the full line of speakers from KEF, which is an industry leader in speaker technology.   Many of KEF's speakers are owned by members of the audiophile community.    The Q Series and R Series are two of KEF's moderately priced ultra high quality speakers…
KEF offers high quality speakers in a wide range of prices, beginning with the all new 8th generation of their famous Q Series.   This family of high quality speakers utilizes KEF's patented Uni-Q drivers and has a very accurate playback capability.    With Uni-Q, sound comes at you so naturally that it seems as if the musicians are actually there in front of you.    This series offers three floor-standing speakers, two bookshelf (or speaker standers, as the Brits call them), a center channel speaker, and a powered subwoofer.   A little more efficient than some of the higher priced KEF models, these are quite popular in many of our customers' home theater systems.    They are moderately priced and quite popular, as they offer incredible sound quality for the price.    They are available in satin black or satin white finishes.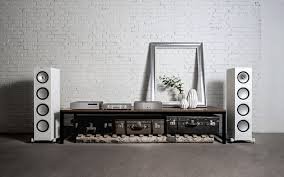 KEF's R Series speakers offer a little more tightness and accuracy, as the cabinets in this line are more rigid.     As with many higher end speakers, R Series speakers usually require a high power high/current amplifier for best results.    You will find many rave reviews of the KEF R Series family of speakers.    Each of these reviews was done by an audio enthusiast, using outstanding audio equipment to really test these speakers to their fullest.    The sound quality from these is extremely realistic and tend to make the speaker disappear.     The R Series family offers three different floor standing models, two bookshelf models, two center channel speakers, a on-wall dipole model, an ATMOS speaker, and a powered subwoofer.    These works of art come in black gloss, rosewood, or walnut.